Energizer device for indoor laser tag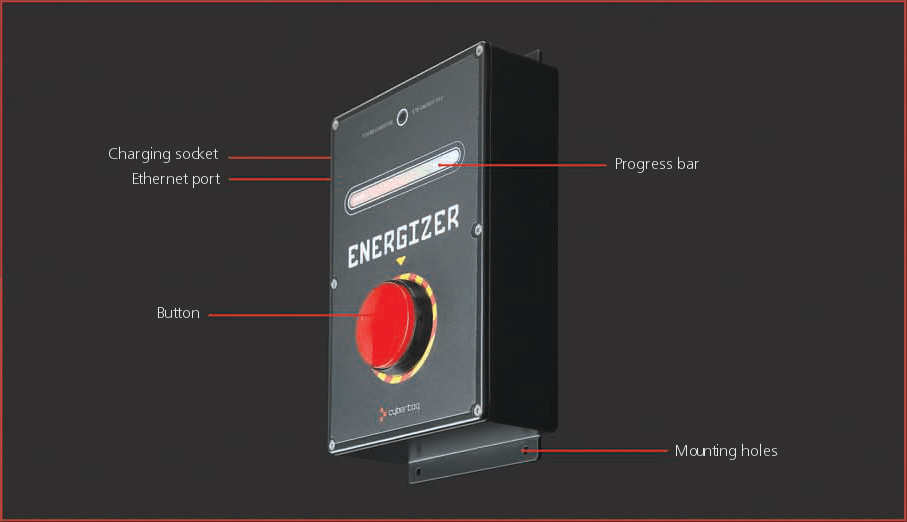 Energizer – is a universal device that can restore the health of the player and his ammo.
One of the advantages of CYBERTAG equipment is interactivity. Any game action performed within the arena triggers a response from arena devices with backlight, sound or vibro-indication. The interaction with the equipment determines the style of the game. If the capture of the particular device gives an advantage to a player, then all players' attention will be focused on this action.
Interactivity is one of the cornerstones of arena success. These ideas were in focus while developing our new device – "Energizer". The main function of this device is to restore the health of the player and his ammo.
The player can physically interact with this device. It is equipped with a large button with a clear push fixation. The button is not recessed into the body, so players do not have to "aim" it.
While developing this device we have focused on its important elements, that's why we made the design not only modern but also functional. The large red button with yellow frame simplifies pushing and the use of a bright progress bar tells the player when the Energizer is ready to restore health.
It will be convenient to mount Energizer at eye level, so that players do not lose it in the twilight of the arena. With help of additional flanges on the back cover, the device can be easily mounted on the wall.
The functions of the device are not limited to respawning. Using Cybertag Configurator, the game master can set other actions. For example, the "Energizer" can be set to be destroyed by the enemy after a preset number of got shots. In this case, the team that loses respawn and ammo also loses almost all the chances of winning the game.
This device has impact-resistant metal case and anti-vandal button that should withstand even the most active and careless players. A lot of customizable parameters allows the game manager to run a variety of game scenarios.
You can buy this device in our online store.
It is also included in most arena laser tag packages.